StudioPros Chosen by Sound on Sound Magazine!
Wednesday, June 16th, 2010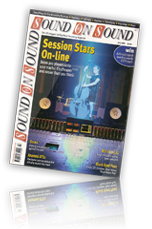 Now it's official… Even the world's best music recording magazine chose Studio Pros over other production companies!
Sam Inglis, feature editor of Sound on Sound magazine, reviewed 3 of the top online recording studios in the July 2009 issue of Sound on Sound magazine using one of his songs.  To test them as equally as possible, Sam used a Christmas song he wrote last year and used Studio Pros' full music production.
Sam's scratch recording:

After StudioPros' full music production:


Sam's article spreads over 6 pages with detailed descriptions of the pre-production and production process.
In brief, Sam writes:
"Very high quality of playing and recording; strong production skills. Ideal  for: Anyone who wants to hand over production of their material to someone else and get top-quality results."

Here are some of Sam's conclusions:
"All the instrumental parts Studio Pros delivered were straight out of the top drawer."
"…I would choose Studio Pros' version ahead of the others"
Try Studio Pros' full music production on your song.  Click here to learn more.