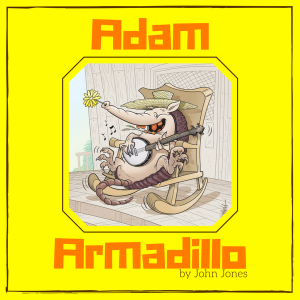 John Jones is a songwriter that lives down under in Australia. I had the pleasure of meeting John after he contacted us regarding some production on kids songs that he has written. He had a great demo with excellent musical ideas on it so it was a breeze to get a direction for the song right off the bat.
After going through some production ideas with him we got started on what I hope is the first of many productions that we are going to collaborate on. This was a folk song, so we used the Full Music Production package which included live drums, bass, guitars, added some vocals by the talented Filip, and some extra banjo to top it off.
Check out his song, "Adam Armadillo"
Finding The Right Production Team For Your Songs
A friend of mine had used StudioPros in the past to produce vocals for some of his songs. He was very pleased with their work, so he suggested I give them a try and I am glad I did!   The whole process was so simple and easy. Robb, Ethan and all the other staff are so professional, helpful and accommodating. Any questions I had were answered quickly and efficiently and Robb also calls his clients one on one, so you're always in the loop 100%.
The Ease of StudioPros Production Process
They took my guide demo that I gave them and then broke it down into its constituent parts. They then re-did all the parts one by one, starting with a basic acoustic guitar sketch before moving onto the next instrument. At each stage, every part was sent through for review and approval, with an options feature, whereby I could ask for a revision, a new take, or to expedite the recording process.
This was fundamental to ensuring the track was exactly how I wanted it. That and the calibre of the musicians made it the professional sounding product that it is.  I have only produced one song so far with Studio Pros, but I am definitely going to get more done with them.
Inspiration for the Music
My early influences go back to guys like Cole Porter and Irving Berlin,Hal David and Burt Bacharach. More contemporary would be Elvis Costello, early Billy Joel and then later still,Calvin Harris and the Haim sisters. Was right into Jazz and fusion when I was younger, but now I'm exploring ethnic music and more classical pieces.
Regarding my roots, I began in 1997, when I was holed up in a hostel in New York at the end of a world trip. At that stage,I didn't play any guitar, so I had to write the songs in my head! When I got back to Australia, I bought an acoustic guitar and painfully taught myself enough to get them out of my head and turn them into concrete songs. I still use that guitar for writing my all my songs.
This particular project I'm working on (A-Z of Weird and Wacky Animal Songs!) has 26 tracks in total, so there's still quite a bit to do in terms of recording it all. I'm aiming to complete it by end of Dec this year and release it early 2018. It's a kids double CD and book rolled into one. Aiming it at parents with deep pockets!

Get YOUR Songs Recorded with StudioPros
To check out available session vocalists from the StudioPros team and place an order online:
https://studiopros.com/vocalist.php
Contact an available producer if you'd like help placing an order: 1-310-928-7776.