Rachel Savitt is a 22 year old California based singer/songwriter. She sparked my attention from her first time contacting us for a Free Project Consultation at StudioPros. When I first hit play and listened to her guitar/vocal demo, I could hear the unique tone in her vocals and catchy vocal melodies that came through in her recording.
As a producer, I was able to see through the quality of the demo and introduce some production ideas to help Rachel transform her project into a fully produced professional recording. With our team, we produced her first single "Take Me Higher" with full band pop/country instrumentation to take it to the next level for pitching and publishing opportunities.
Recording your demo with professionals for TV/Film publishing opportunities
Rachel describes the process of finding the StudioPros' team, "I was fed-up with having a bunch of acoustic demos, with horrible sounding guitar tracks, and nothing to move forward with. So, I started looking online for producers and stumbled upon StudiosPros. I thought it was an awesome concept and a really modern take on producing songs. I listened to a few of their previous productions, and got really excited. I called in the next day, and started what has now turned out to be the new and improved "Take Me Higher".
At first I thought it would be a bit difficult to communicate my vision online through each step, but I came to find that it was actually super easy. StudioPros really understood all the feedback that I gave them, and were always in contact with me. The process has been a really great experience, and I've become accustomed to looking forward to a new preview of my song every two days!"
Listen to the before and after of "Take Me Higher"
BEFORE: Rachel's Home Recording Demo of "Take Me Higher"

AFTER: StudioPros' Full Band Production of "Take Me Higher"

Developing your song from demo to fully produced recording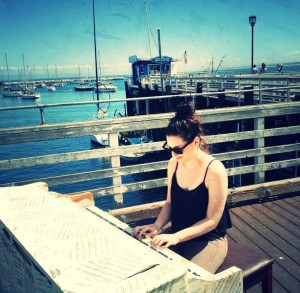 After we decided on the song to produce, Rachel and I had a conversation on her goals for her project and direction for the full band production. We discussed influences for the project and came up with a combination of the commercial pop/country elements of Taylor Swift's songs in combination with the more edgy and indie elements of pop/indie group Tegan and Sara.
I suggested that we build a bed of basic tracks including: live drums, electric bass, acoustic guitars with additional layers of electric lead and supporting rhythm + country fiddle and backing vocals by the talented Shelby from the StudioPros team to add additional support to her lead. Through the step by step production process, Rachel was able to give her input throughout the production as we put together her project.
"The StudioPros' team knows what they're talking about through and through. More importantly they understood what I was talking about even when I was having a hard time explaining exactly what I wanted," explained Savitt.
Since producing "Take Me Higher", we have proceeded to work on Savitt's second song "The Other Side", expanding on her catalog of finished material for publishing opportunities. "When I finish recording my portfolio of songs, I plan to pitch them and try to get a publishing deal. I've never wanted to be in the spotlight, as much as I've wanted to see someone else singing one of my songs."
Get your songs produced with StudioPros
If you'd like to find out more about getting your songs professionally produced by StudioPros, feel free to contact one of our available producers at info@studiopros.com.
We are available at: 1-310-928-7776 M-F from 7am-5pm, or Saturday and Sunday from 9am-3pm PST.
To read more about StudioPros Full Production or order online:
https://studiopros.com/music-production.php