This month's featured songwriting team is a California based father/son duo, Dion Brain and Chris Brain. Dion has produced 5 full productions with the StudioPros team over the past 9 years, but this is the first collaboration with his son Chris and our team.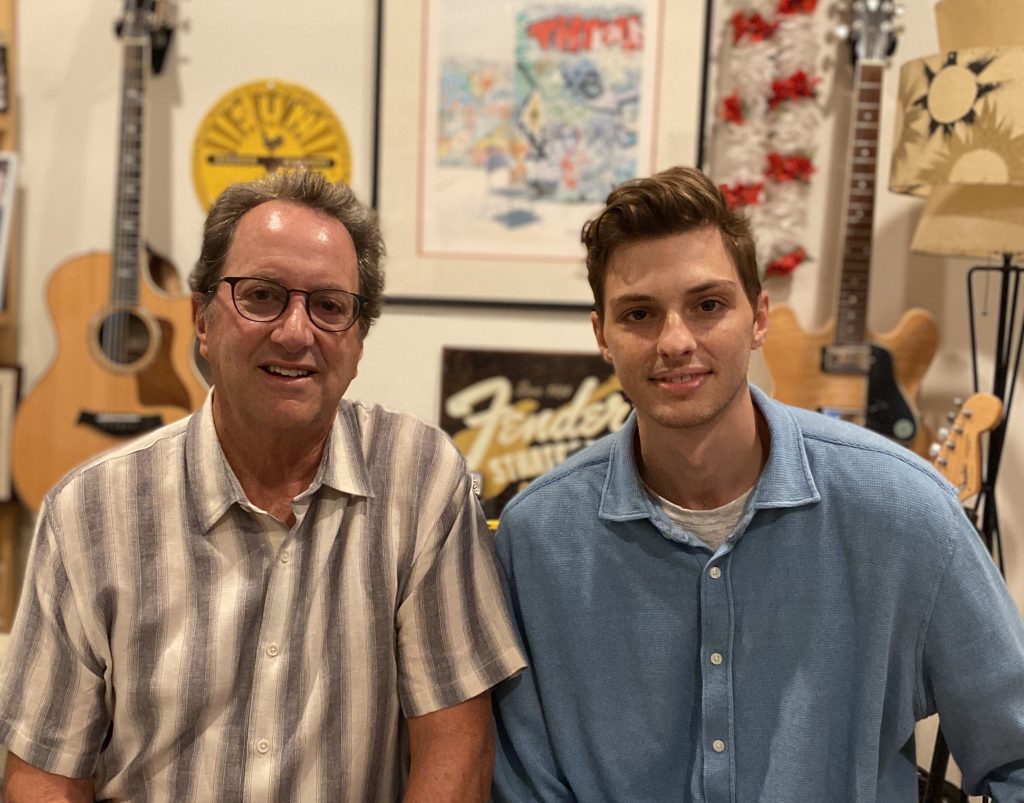 Under the guidance of their producer Craig Durrance, the team produced the song in a jazz direction. Our StudioPros guitarist beautifully executed hollow-body jazz guitar rhythm and lead, we added Latin-inspired live world percussion, upright bass, Fender Rhodes and smooth vocals by Filip. The instrumentation they chose left space for the song to breathe while still filling out the production enough to give the song movement and life.
Checkout Sunday produced by StudioPros:
In the words of the clients:
Dion: I found Studio Pros back in 2011 when I was searching for an affordable, alternative way to produce my song demos.  The cost of studio time is expensive in LA, and I'm not technical to produce it myself.  StudioPros presented a real affordable option with industry professionals.  It was the perfect solution for me.
Dion: Working with StudioPros and our producer, Craig Durance, has been a great experience.  The website is easy to navigate and we like how the recording process is tracked on the project page.  It really helps to manage the production process, especially with additional takes and modifications.
Chris: I agree with my dad. Besides the online portal, we had regular calls with Craig to discuss each part of the song production, so we were always close in touch and in synch.
Finding inspiration for your songwriting and production.
Dion/Chris: We definitely knew how we wanted "Sunday" to sound. Trusting Craig to get us from our vision to a professionally produced and mastered recording took time, patience, and confidence in our creative choices. It really helped that Craig understood our song right away and had lots of great musical ideas for "ear candy," that all came together in the final production. All the StudioPros musicians were top-notch and Craig had a good handle on who to use for our song. We felt it was critical to get a great vocal to carry the tune and the vocalist delivered beyond our wildest expectations. Thank you, Filip!
Dion: There's something new in every day to inspire you. Song ideas pop into my head all the time and I try to write them down to work on them later.  Some are worth developing as song ideas, some are just clever words and ideas.
Chris: Absolutely. I always use the voice recorder app on my phone to hum quick melodies and lines that I come up with throughout the day that I don't want to forget. I find inspiration strikes when you're least expecting it sometimes, so it's important to recognize and capture it when it happens.
Dion/Chris: We hope everyone enjoys "Sunday" as much as we do!
Get Your Songs Produced by StudioPros:
To read more about our StudioPros production process or order online:
https://studiopros.com/music-production.php
Contact an available producer TODAY to get your songs produced with our team: 1-310-928-7776 or by email: info@studiopros.com.