Our first StudioPros country songwriting contest was such a huge success that we've decided to continue with quarterly contests throughout the year in different styles. This month we are doing a pop songwriting contest!
We are going to select the best pop song and have a lot of great prizes in store for our contestants.
Very important: please do not submit finished productions that have already been produced professionally.
The whole idea is that we hear your song in raw form so that we have room to professionally produce it for you from the ground up!
Piano/vocal demos, or guitar/vocal demos are ideal. If you have a sample drum idea or loop that is fine, but we don't want songs fully flushed out.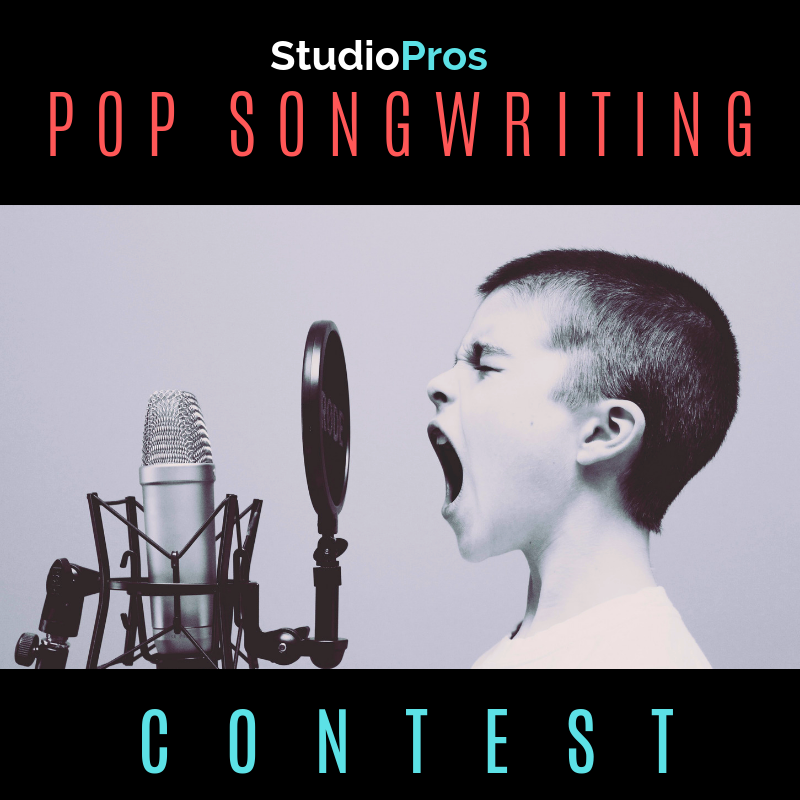 StudioPros Pop Songwriting Contest Prizes:
GRAND PRIZE: Win a StudioPros full production.
Valued at $1395/song and includes: A full band production including: live drums or drum programming, synth bass or electric bass, 3-6 guitars, 2-4 keys  + mixing/mastering.
2nd Place Prize: Win a StudioPros acoustic production.
Valued at $599/song: StudioPros acoustic production package includes: 2 custom instruments + mixing/mastering.
3rd Place: Free Custom Track
Valued at $179: Choose a custom instrument track from StudioPros of your choice, or use $179 in credit towards any StudioPros service.
$50 StudioPros Gift Card Award: best lyrics
$50 StudioPros Gift Card Award: best melody
$50 StudioPros Gift Card Award: best hook
To qualify/submit your song to StudioPros pop song contest:
Email the mp3 of your song to: info@studiopros.com
YOU MUST BE 18 YEARS OLD TO SUBMIT
Follow StudioPros Instagram @studioprosmusic
Like us on Facebook: https://www.facebook.com/studiopros
Make the subject of your email: StudioPros Pop Song Contest
Include your Instagram Handle Ex: @myinstagramhandle
Songs must be under 5 minutes in length
Limit to 1 song submissions per person
Make sure to include your name + song name in the mp3 file name: EX: katiotoole_mysong.mp3
Song must be in a demo stage, not professionally produced
Winner will get the submitted song professionally produced (not another song)
Submissions must be sent by Sept. 27th at 11:59 PM PST
Winner will be announced Oct 1st by 5pm PST.
Best of luck to you all! If you have questions, don't hesitate to contact us at: 1-310-928-7776.