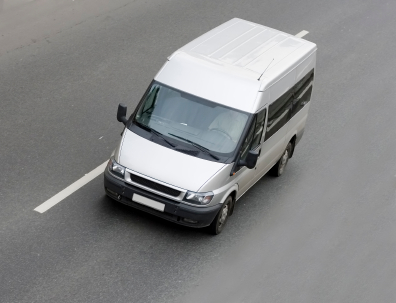 Hitting the road is a lot of fun, but the expenses can add up. Being away from your day job, high gas prices and constantly eating out are just a few of the things that might make touring seem like a financial strain—especially if you're not guaranteed to make money at every gig. So you may be wondering if it's at all cost effective to rent a van to transport you and your gear.
I run into this situation all the time with my band. We're constantly hitting the road for tours of various lengths, sometimes a couple of days, other times a few weeks. At this point, we've gotten it down to something of a science when deciding whether or not we need a van. Here are some touring tips to help you decide what's best for you.
A few things to note before we begin
Just so you have a good idea of what my band is working with when we're getting ready to hit the road, here are a few key facts about us that factor into our decision:
– There are six of us total (five band members and one manager)
– We live in Los Angeles
– It takes three cars to transport us and our gear anywhere when we don't have a van
Now it's time to ask yourself a few questions.
How many people are going?
How much sense a van makes will depend greatly on the size of your band. I would assume that if you're a solo artist who just sings and plays acoustic guitar, you're probably not reading this post, wondering if you should be renting a van! As I mentioned above, my band takes six people on the road each time we tour, so the smallest vehicle we can all cram into is a 15 passenger van with a couple of seat rows taken out and all the gear stuffed in the back. Accounting for a drum set, guitar amps, a keyboard case, bass rig, and all of our clothes, it can be pretty tight squeezing all of us in, but we manage.
Your first step is to figure out what van size you need. How many people are traveling? How much gear is coming along? How close are you willing sit next to each other for long durations? If you would rather put people in the van and gear in a trailer, that's an additional expense to take into account when budgeting your trip. Also, don't forget that you'll have to drive a little slower when towing a trailer, so that might mean more nights staying in hotels during the trip.
How far away are you playing?
If we have a show booked in San Diego, we never rent a van. The drive is only a couple hours from LA, and with three cars fueling up about once a trip, it doesn't make any sense whatsoever for us to throw down all the cash for a van. We'll do the same for San Francisco gigs, which are a bit of a longer drive at around six hours, but driving ourselves still works out to be more cost effective than renting a van.
Determine the number of miles you'll be driving. Factor in how many cars you need and what their gas mileage is. Use this to figure out if driving your own car makes more sense than renting a van. Remember to factor in the rental cost, the cost of gas for the van, and any other costs like parking in a garage if you don't think you can find a street spot for a van.
How long will you be gone?
Last but not least is the duration of your trip. As I mentioned above, we don't usually rent a van if we're playing a one-off show in San Fran, but we will rent if it's just one stop in a 10-date tour. We tend to like having a van for the longer trips so that we can all spend time together and only one person at a time has to drive. We can even be productive by having band meetings together on during long trips!
Budgeting
Now that you've answered the three big questions, you can estimate how much a van will cost you for the trip versus taking multiple cars. Factor in the money you expect to make on the trip, and you should get a pretty good picture of which option makes more sense for you. My band tends to rent a van when we have shows that help us pay for the costs of transportation, such as college shows.
Look out for yourself
When finding a van company to rent from, make sure you use a service that you trust. We've had several debacles with vans on the road (flat tires, busted transmissions), and have had very different experiences with various companies. Try finding a company like Bandago that specifically gears their service towards musicians. They'll understand your needs and the types of situations you'll find yourself in while on tour. Music-related van rental services also regularly rent vans to people who will be driving very long distances, and not just for local purposes.