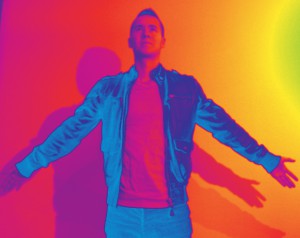 Chase Force is an eclectic Norwegian based singer/songwriter with a wide range of  influences from pop, rock, hip hop, indie, to folk. You can hear his influences shining through in his latest production with the Studio Pros team, "United in Scream". The song is the perfect combination of live instrumentation of saxophone and flute establishing the hook, acoustic guitars, live electric bass and backing vocals with drum programming to give it the dance feel that moves the listener.

"Blow The Beat Down" is Force's second song that tends to have more of a rock pop edge that features a combination of live instrumentation with rock electric guitar lead and hooks, electric bass, live drums, live trumpet, saxophone, drum programming and synthesizers.
Check out the video of "United in Scream" produced by StudioPros
Check out StudioPros final production:
Blow The Beat Down:

How did you first get involved with StudioPros.com?
I wanted to get some of the songs I've written recorded and wanted a professional sound.
How was the StudioPros process for you?
The process was really great! If I was to hire session musicians myself, I'm pretty sure the process would be much more of a hassle. Thumbs up!
How did we help to get your songs sounding professional?
First of all the session players are really great! They have the ability to play the instruments however you want it.  They will compose harmonies if your songs need it and it will always sound professional. Also, Kati is right there if you'll need any kind of input throughout the process.
How many songs have you produced with StudioPros?
3
What are you doing with your music? What's next for you?
I have just released 'United in Scream' independently, and I've written more songs that I'd like to record. Time will tell what's next…
Who are some of your favorite songwriters and musical influences?
I listen to all kinds of music, so I guess I'm influenced by everything. A few of my favorite songwriters/artists : Michael Jackson, Stromae, Avicii, Stromae, Johnny Cash, Labrinth, The Beatles, Ed Sheeran, Lana Del Rey, Mando Diao, Jonas Alaska, Mumford & Sons, P-Square, Passenger, Kanye West, Elvis, Freddie Mercury, Justin Timberlake, Bruno Mars, Jack Johnson, Major Lazer, Swedish House Mafia, Adele, Bernhoft, Shakira, Beyonce, Fun., Nico&Vinz, Rihanna, U2, Coldplay, John Mayer, A-ha, The Beach Boys, ABBA, Susanne Sundf?r, Aretha Franklin, The Rolling Stones, Jay-Z, Ne-Yo, Donkeyboy, Daddy Yankee, Q-Tip, James Blake, OutKast, R.I.O, Sam Smith, Kat Dahlia, Imagine Dragons, Jake Bugg, Ylvis, Kaizers Orchestra, OneRepublic, and many more…
When did you begin songwriting?
About 4-5 years ago I started humming some melodies. Sometimes I write with my guitar, sometimes I write without an instrument – it all depends!
What is your inspiration and writing process?
'United in Scream': This song was all about a melody which I have had in my head for a few years. I always knew I wanted to have a saxophone in the chorus.
'Blow The Beat Down': The song is a fiction story filled with anger. I started out with the vocal melody of the chorus. Then I wrote the rest of the vocal melody and the lyrics. Then I made the saxophone/trumpet riff melody which ended up being at the end of the first chorus. The guitar riff was added by StudioPros (which I love)!
I draw inspiration from my everyday life, and also from anything else. I really enjoy experimenting with the production and arrangement of my songs. No rules – anything that will convey the emotions in my music goes!
To follow Chase Forces musical endeavors and to read more:
//www.chaseforcemusic.com/
Get Your Songs Produced with StudioPros!
If you are interested in getting your songs produced professionally, don't hesitate to contact myself: Kati O'Toole, or my co-producer Robb Hutzal.
Read more about StudioPros Music Production here: https://studiopros.com/music-production.php
If you'd like to discuss getting a project started, call: 1-310-928-7776. We look forward to working with you soon!