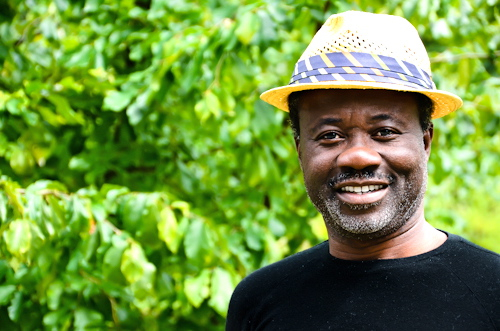 Jose Kongo is a Portugal based artist who has collaborated with the StudioPros production team on a combination of 13 songs over the past 2 years. The worldly rhythms in his song "Nova Dia" always make me want to move when I'm listening to his track.
Kongo says his song was inspired by the hope of change of his native homeland Africa and the rise of a new day with some developments that have taken place on his last visit home. I can hear the hope and positive energy that has translated through the music of Nova Dia which means "New Day" in English. It always amazes me how music can transform a message universally. Even if you cannot understand the language. Music is a language we all speak.

The combination of the world percussion by our authentic percussionist with the live drums set the foundation for the production. The acoustic guitar drives the song, along with a steady bass line and island inspired keyboard tracks. The live horn section really give the song the additional punch. I really enjoy the feel good vibe of the production and the way the full band instrumentation perfectly supports the mellow and smooth quality of his vocals paired with the perfect combination of supporting backing vocals.
Check out StudioPros production of Nova Dia:

How did you first get involved with StudioPros.com?
I was in Canada and needed some backing tracks for a concert I was invited to at a Portuguese Cultural Center in Toronto. That's when I was looking for a place where I could easily and professionally record those tracks.
When I went online to look for a studio I stumbled on StudioPros and after a mail to Kati O'Toole all went smoothly. I was actually amazed by how easy the all process worked, from ordering a project to uploading tracks and throughout the production.
How did we help to get your songs sounding professional?
By the time I contacted with StudioPros I had already released two CDs on my own label (@musing). However, there was a need to make the songs sound more professional. The quality of musicians, producers and sound engineers from StudioPros brought that to my music.
What are you doing with your music? What's next for you?
Right now I'm mainly focused of having as many songs published as possible, or for pitching, although I also do some local concerts where I play live.
Who are some of your favorite songwriters and musical influences?
From the older days I love Neil Young, John Denver and Jose Feliciano . My most recent favorite songwriters are Katie Melua and Michael Kiwanuka. My musical influences are very diverse, making my song writing very ecletic, although I could refer to main influences such as Santana, Otis Reading, Bob Marley, and Richard Bona.  Although I feel that I drink from Mozart and Beethoven as well.
When did you begin songwriting? What instruments do you write with?
I always use guitar to start composing my songs.
I can remember writing the first songs when I was 12. As a kid I always loved music & science. My earliest dream was to become a scientist.  So I  moved to Europe, finished High School, got a Master's degree in Food Science, and a PhD in Biotechnology and eventually I become a teacher and a researcher at a University.  I kind of left music behind although I continued to be a member of a choir and also played for a while in  garage band. It's highest point was to play at the famous Portuguese University Music Festival "Queima das Fitas" at the Rivoli Theatre.  I remember that as a High School student I was engaged in many artistic activities: played clarinet  at the school band, studied  classical guitar, singing and music theory at the Conservatory, and had Jazz classes with the famous British  guitarist "Curly" Clayton (Harvey Ormerod).
So music was always a part of my life.
A couple of years ago while I was in Canada working on my research, I saw an amazing concert by the  "Watoto Children Choir". Those kids were just outpouring energy, and joy through music, in spite of the stories of suffering most of them had. That moment taught me that music may well play a role in helping people.
So I start writing tunes again. I was a finalist at the TV show ("Novas Ondas") on the Portuguese National TV station (RTP) for which I recorded a video clip and was twice an invited participant to sing in their charity  show called "Natal dos Hospitais" (Christmas at the Hospital) dedicated to patients in the hospital.
In 2006 I wrote the song "Viagens", which was in the final phase of the contest on the Portuguese Radio and Television in Toronto, where I gave two concerts in 2012.
What was the inspiration and writing process like for Novo Dia?
Although I travel most of time between Europe and Canada, more recently I went back to Africa where I was born. Although there are still many needs there, I saw new developments that made me believe that a new day is rising for Africa, and this inspired me to write the song  "Novo Dia", which means a new day. After the experience of the quality of the recording with StudioPros I decided to send the tracks recorded in my home studio to them and had the opportunity to give inputs while the tracks were being recorded. At the beginning I was a bit afraid because the song isn't in the line of what is called "mainstream" sound, but the way it came out shows how professional people in StudioPros are. It worked very well.
Besides music, what else do you enjoy? 
I enjoy soccer, writing poems, photography and traveling.
Do you draw inspiration from your everyday life?
Yes, many of my songs are related to some lived or heard story in real life. The motto "Unity in Diversity" is one of the inspirational life philosophies that I drink from. The diversity in the human family should be seen as a cause of love and harmony, as it is in music where many different notes blend together in the making of a perfect chord and melodies. I think of music as a ladder for our spirit.
What do you do for a living?
I'm a teacher/researcher at a University.
What is your plan for your final recordings?
I want to write and record as  many songs for publication or pitching. I want my songs to be heard all over the world.
Get Your Songs Produced with StudioPros
To read more about how the StudioPros production team can help you get started with your own project: https://studiopros.com/music-production.php
Contact producers Kati O'Toole or Robb Hutzal to get started today: 1-310-928-7776 or email us at info@studiopros.com