Producer's Note: I usually present the Featured Artist blogs in interview format, but our most recent artist Patricia Charlton has such a gift of writing and storytelling that she has written first hand about working with our production team. With that said, read what the talented songstress has to say about her experience with StudioPros.

The StudioPros experience from Patricia Charlton:
I first got involved with StudioPros when I was online looking for studios in my area to record my songs.
I have written music for years. I wrote my first instrumental when I was around 10. The lyrical aspect of writing came as a teen, when of course we are angry and misunderstood. Standard songwriting scenario.
I am not involved with a band so I had no one familiar with my songs. I was a little intimidated at the thought of hiring studio musicians, taking time for them to learn the music and praying that personalities, creative juices and work ethic didn't eat up studio time. This was all new to me. I had no contacts and no experience in production.
I found StudioPros online, made the call, mulled it over for about a day and signed on. It was a relief to know that I could do so much in one place.
Check out "Wash Me in Your Grace" produced by StudioPros:

My StudioPros producer really guided me through the process. My producer was patient, helped me in realizing what I really wanted; the flow, the sound, the instrumentation. She also had a lot of great ideas, so were bouncing things back and forth. It was a bit of a learning experience due to my lack of production experience, but it was awesome and exciting.
Once I got the process and my artistic desires down, working online with my producer and the studio musicians went smoothly. I have completed and released seven songs thus far with StudioPros, and I am presently working on three more.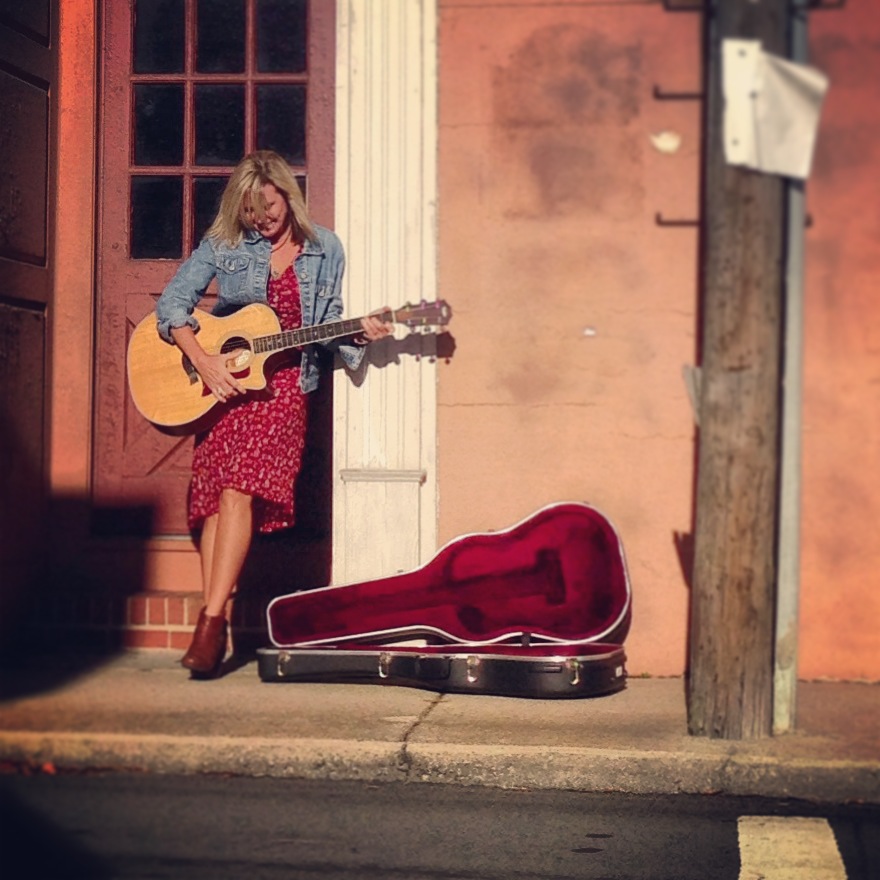 Finding the right team of musicians to record your songs.
I've been very impressed with the musicians that have worked on my projects and with how professional the completed works are. This is the first time that I've I really heard my music come to life!
As I have said, I have written for a very long time. Starting out with the piano as a child, but most of my music has been written on guitar. I now, as an adult, have the desire to go back to the piano and see what kind of creative juices flow. My tastes, music and lyric ability have matured.  I hope that it opens up a new door to my music.
What are your songwriting inspirations?
I love all types of music;  Jazz to hard rock, classical to country, and everything in between. I've really been into the folk genre for most of my life and recently country. Both are reflected in the music I write. The most influential artists and songwriters have been Sheryl Crow, Sarah McLachlan, Crosby, Stills, Nash & Young, Civil Wars( Joy Williams & John Paul White) and Pistol Annies (Miranda Lambert, Ashley Monroe & Angaleena Presley). Story tellers…
Life in general is what inspires me.  Heartache, passion, sheer humor and God's blessings in life. I write country/folk music or you could consider them Americana maybe.  I also write contemporary Christian music. Whether it is from my standpoint on life or putting myself in other's shoes; If I find something I'm passionate about, the writing just kind of spills out. I'm blessed.
Just getting my songs out there is my ultimate goal. I love to sing but truly would love to have someone cover them. My favorite thing is to sit down and write a story with my music. The songwriting, that's my favorite. I enjoy performing but I'd rather play in church, a backyard cookout or drinking wine on my back porch!! My other enjoyments in life are my family, friends, art, outdoors in of itself. I like to camp, fish and play on the lake.  I also really like good food and wine!
To check out more about Patricia, visit her website: //www.patriciacharlton.com/
Get your songs produced by StudioPros
If you are interested in getting your songs produced professionally, don't hesitate to contact producers Kati O'Toole or Robb Hutzal.
Read more about StudioPros Music Production here: https://studiopros.com/music-production.php
If you'd like to discuss getting a project started, call: 1-310-928-7776. We look forward to working with you soon!