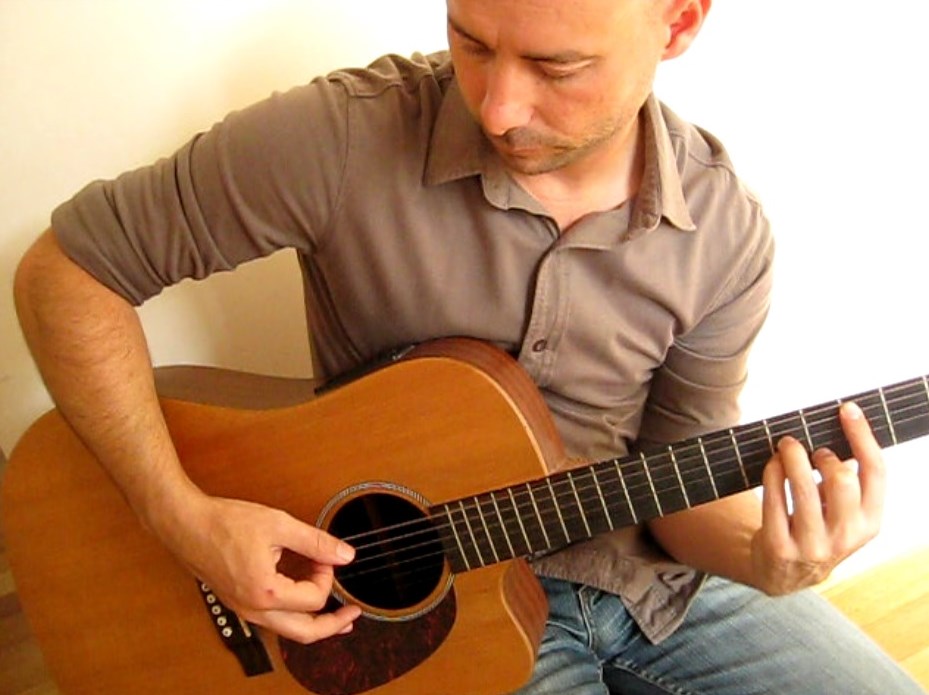 Paul Kew is a great example of the StudioPros concept that you can collaborate with our team of professional session musicians from anywhere in the world. Living in Perth, Australia, Kew has collaborated with our production team on a total of 7 full band productions. He has the knack for writing catchy pop/alternative melodies that are fit for the radio airwaves.
Always having a clear idea of the direction he'd like to take his productions, Kew co-produces the tracks with our team giving input each step of the way and making sure that the session musicians follow his original vision with the production. He's a hands on songwriter with the musical knowledge to communicate his needs. For his latest single "Fallen For You", he gave specific reference artists such as the pop group One Republic to guide our team in the right direction. The final recording is a combination of live drums, a driving pop electric bass line, acoustic and electric guitars, catchy piano hooks with supporting subtle soaring organ and commercial alternative vocals by the talented MG from our team of session vocalists.

Check out StudioPros final production:
Fallen For You:

How did you first get involved with StudioPros.com?
I was searching online for recording studios and the StudioPros advertisement kept coming up on Google. I ignored it a few times because I was pretty fixed on getting into a local studio to produce my songs but I finally caved in and had a look at the StudioPros site. I was impressed by what I saw, thought the pricing was very reasonable compared to local studio rates and decided to give it a go.
How was the StudioPros process for you? Was it difficult to work online?
I was skeptical as to how it was going to work at first because I'm a bit of a control freak when it comes to my songs. The idea of not being in the studio working closely with the producer and musicians didn't sit that well with me at first. But the first song I did with Studio Pros was a brilliant experience, not only because the song ended up sounding so good but because the process forced me to relinquish some control. I still had the opportunity to influence the outcome at each preview but the musicians and producers came up with such good stuff there was no need for me to micro-manage – which saved me a lot of time and energy. It also helped being on the other side of the world because while Studio Pros worked on my songs, I was asleep. I'd wake up in the morning and a new preview of my song was waiting for me.
How did we help to get your songs sounding professional?
The musicians and producers at StudioPros are a talented bunch. They know how to achieve that radio-ready sound that's sometimes difficult to achieve. They don't just replicate exactly what you send them through as a guide track either – they put their own spin on it and suggest alternatives so it's truly a collaborative process aimed at making the track the best it can be.
How many songs have you produced with StudioPros?
I've produced seven songs with Studio Pros over the last few months. Two of them are now signed to publishing deals and a third is being pitched around by a couple of interested parties.
What are you doing with your music? What's next for you?
I'm working hard on improving my song writing and obtaining publishing deals and song placements for my tracks.
Who are some of your favorite songwriters and musical influences?
My favorite songwriters are probably Neil Finn (Crowded House, Finn Brothers) and Bono/The Edge (U2). I'm also a big fan of melodic rock bands like Keane, Snow Patrol and Radiohead.
When did you begin song writing? What instruments do you write with?
I've been writing for a number of years, although back when I first started I came up with some truly horrendous stuff. I write on acoustic guitar and piano. I sit down and fool around for a bit and if something starts to happen then it does, and if it doesn't it then so be it. It's usually quite a simple process. Once I latch on to an idea then the whole song tends to flow. If I have to work really hard to make a song work then it usually means it's not very good and I let it go. I think most of my songs come from somewhere in my sub-conscious. I can look back on the lyrics sometimes and figure out what may have led to the song coming out, but usually the inspiration behind them is a bit of a mystery.
Do you draw inspiration from your everyday life?
Not consciously. I don't see or hear things in my everyday life and feel inspired by them necessarily. Perhaps on a subconscious level I am. Everyday life can be pretty dull at times so I tend to be inspired more by books, movies, music etc. – things that can fire your imagination – and when I sit down to write I just keep my fingers crossed that something good happens.
What is your plan for your final recordings?
I plan to try and get them heard by people in the industry who can help me achieve commercial success as a writer.
 Get your songs produced by StudioPros
If you are interested in getting your songs produced professionally, don't hesitate to contact producers Kati O'Toole or Robb Hutzal.
Read more about StudioPros Music Production here: https://studiopros.com/music-production.php
If you'd like to discuss getting a project started, call: 1-310-928-7776. We look forward to working with you soon!