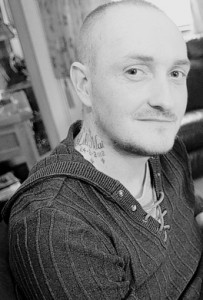 Philip Jenkins is a UK based songwriter with a knack for writing catchy pop lyrics and hooky melodies. Teaming up with StudioPros production team, we collaborated on his recent song "In Pieces". Jenkins communicated the ideas he had for his production with a well developed demo showcasing his production ideas.
With the help of our talented drum programmer, keyboardist, guitarist, session vocalists and engineer, we re-produced his song from scratch bringing it up to radio ready Broadcast Quality. Since the final production, Jenkins has had success landing a publishing deal for this single. Just what we like to hear!

Check out Studio Pros final production:
In Pieces:

Interview with Philip Jenkins
SP: How did you first get involved with StudioPros.com?
I first got involved with Studio Pros when I wanted to get my songs recorded and sounding professional.
SP: How was the StudioPros process for you? Was it difficult to work online?
Working on my songs with Studio Pros has been a joy and really easy. The communication with Kati O'Toole my producer has been first class.
SP: What are you doing with your music? What's next for you?
I'm sending my songs out to music publishers and have just had a publishing deal for my latest song' In Pieces '.
SP: Who are some of your favorite songwriters and musical influences?
My favorite songwriter is Max Martin who has produced and written for major artists such as Kelly Clarkson, Backstreet Boys, Celine Dion, Pink and more.
SP: When did you begin songwriting? What instruments do you write with?
I began writing songs from an early age but have taken it more seriously the past couple of years. I play keyboard.
SP: What was the inspiration and writing process like for your song?
The inspiration for the song 'In Pieces ' comes from a heartbreak in my personal life and it can relate to many people who have had their heart broken. I hope that people can relate to the lyrics of the song as well as enjoying the great melody of the track. The songs I write are taken mostly from my everyday life but I also write songs based on a story I make up in my mind.
SP: Besides music, what else do you enjoy?
Away from music and writing songs I enjoy spending quality time with my two young daughters. They're my biggest fans of my songs and put a smile on my face when there singing away to my songs in the car.
SP: What is your plan for your final recordings?
I hope to build up a publishing portfolio of my songs and then get them on major artists albums or tv/film placements. That's the dream anyway!
Get Your Songs Produced with StudioPros!
If you are interested in getting your own songs professionally produced, don't hesitate to contact myself: Kati O'Toole, or my co-producer Robb Hutzal.
Read more about StudioPros Music Production here: https://studiopros.com/music-production.php
If you'd like to discuss getting a project started, call: 1-310-928-7776. We look forward to working with you soon! Happy Songwriting.