Richard Davia is a singer-songwriter and recording artist based in Providence, Rhode Island. His melodic, well-crafted soft-rock tunes reflect a career spanning more than 20 years as a professional musician. Richard recently had his latest song, "Breaking Up Around Me", produced at Studio Pros.
Like many singer-songwriters, Davia began at an early age with piano lessons. "I've been into music as long as I can remember. I took trumpet and piano lessons as a kid. When I was 10 years old, I took guitar lessons and started a band with two friends shortly after that."
Growing up, Davia's household was filled with the music of Simon & Garfunkel, the Mama's and the Papas and the Supremes. These early influences and constant radio listening inspired the young musician to start a large top 40 record collection. "In high school, I got into artists like the B52's, Gary Numan, and the Cars. Then I became obsessed with the Rolling Stones. I learned every Keith Richards riff I could get my hands on. That's when I stared to really understand what rock songwriting was all about. Shortly after that, I got into artists with a harder rock edge, alternative and grunge."
Davia was writing songs before he was old enough to get into clubs, and started in playing local rock cover bands around the same time. But early on he realized he was much more interested in playing and writing original music. "Working with other musicians to make original music and building a following seemed much more genuine to me as an artist. Music was integrated into my life from the start – from my personal practice time to band rehearsals, shows, recording and then teaching. I grew up a full-out music geek and loved every minute of it."
Richard's Studio Pros Experience
Check Out Richard Davia's New Song "Breaking Up Around Me" produced by Studio Pros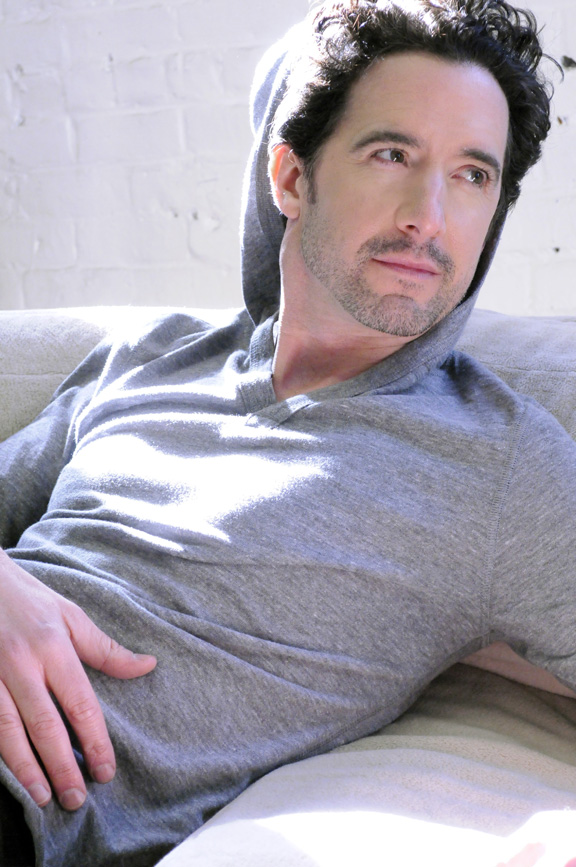 Davia found Studio Pros online while looking for a studio to remix and master some of his music and was impressed with their capabilities. "I spoke with Kati, a producer over the phone and learned more about all the great things they had to offer – great musicians, live drums, and strong mixing/mastering expertise. They seemed to be a great fit for a singer-songwriter like me, so I decided to start fresh and record a new song with Studio Pros."
The result was "Breaking Up Around Me". At the time people close to Davia were experiencing lots of simultaneous emotional turmoil – life partners, marriages, and serious relationships all seemed to be collapsing all around him. "This all happened around the same time, so it was very much in my face and very raw."
"Through it all I witnessed the inner struggles that people go through with matters of the heart, and I could relate to those feelings. I became inspired by the strength people have to move forward through adversity and ultimately grow stronger…to break through. The idea of finding courage comes through in the lyric …do you dare to do it over again? That sums it up for me – you've got to keep moving on in life."
Davia recorded a rough cut of "Breaking Up Around Me" in his living room on an acoustic guitar. Once he had something he was happy with, he set up his profile on the Studio Pros web site and uploaded the song along with its lyrics and some reference tracks for overall musical direction.
Davia then worked closely with Kati and the Studio Pros production team to lay out an overall vision of the song before initiating the project. After a few back and forth phone conversations they were off and running.
"Within a couple of days, I received my first sketch track back from Studio Pros to review for structure, tempo, etc. It was a great foundation to build upon and pretty much spot on. From there, layers of instrument tracks were recorded – bass, live drums, guitars, and keyboards. I have to say, it was a blast – every time I received an email notification that a track was ready for my review, it was like getting a present in the mail!"
During the process Davia had multiple opportunities to give feedback to the production team. Once he was happy with all the instrumentation, he received a rough mix to take into a local studio where he recorded  lead and harmony vocals. "The sound engineers at my local studio were impressed with the quality of the Studio Pros tracks. Once I was happy with the vocal tracks, I simply uploaded them back to Studio Pros, and they started working on the final mix and master. It was pretty smooth every step of the way.  I was really happy with the quality of the recording. It exceeded my expectations. I especially liked the mastering quality. That extra "umph" in the final mix was just what the song called for."
Davia plans to use Studio Pros again for recording his new music and remixing and mastering some past recordings he's done. He's even considering a possible EP or album package. "Studio Pros is really a unique studio. I'm not aware of any other that gives you access to musicians in such a wide variety of musical styles, work with you to create your sound, and deliver it all as quickly as they do. This allows me to focus on what I love to do – songwriting and performing."
To submit your material for a Free Project Consultation with one of our available producers, follow this link:
https://studiopros.com/free-consultation-form.php
If you have any questions or would like to speak with a StudioPros producer, contact Kati at: 1-310-928-7776 US or +44 (0)20 8196 2429 UK.