Chord Slinger N Lola used Studio Pros as the glue that held together their long-distance musical collaboration.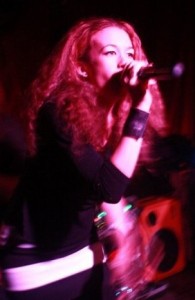 When Chord Slinger N Lola instrumentalist Don Wallingford first heard Lola sing, he immediately imagined how her voice would sound over his music. "I said, 'My God, that would be so good for my music,'" he remembers. The only problem was that they were living in two different parts of the country: Lola sang in a metal band in New York City, while Wallingford was based in Cincinnati. "I sent her an email and asked if she'd be interested in a collaboration," he says. "My music was very different, it was more ambient stuff. But her voice just sounded like a perfect match."
Lola is originally from Greece, but came to America to pursue a master's degree in psychology. Some of her influences include the Cranberries, Fiona Apple, and The Gathering; Wallingford's inspirations skew a little more toward classic rock artists such as Simon & Garfunkel and The Who, but he also loves some modern bands such as Green Day. The two of them started putting music on websites such as Thesixtyone.com where they enjoyed some success on the charts. As they moved on to bigger sites, the duo realized they might need to start getting a little more serious about their recordings.
"We were on Reverbnation about six weeks and we were number one in the region and doing pretty well globally," Wallingford says. "We thought, you know what, we probably need to take this to a higher level." Inspired by all the positive feedback they were getting, they decided it was time to record in an actual studio–but there was still the problem of being in remote locations. "We had another problem because I play all these different instruments on the synthesizer, but when I use drum loops it doesn't sound the same as a real set of drums," says Wallingford. "I'm also not the best bass player in the world. I can't get that professional sound because bass isn't really my thing. When one person's doing all of the instruments, it's impossible to get really good quality."

As he was looking for options, Wallingford saw that Studio Pros had been selected by Sound on Sound magazine as the best online recording studio–which he realized was the exact type of service he needed. He soon became impressed with Studio Pros' personnel. "I got to reading about how [Studio Pros] has all these Grammy award-winning people that really have their act together to play with you and make suggestions," he says. "I talked to Lola and she said we should do it because we needed something studio-grade."
Wallingford and Lola were involved with the Studio Pros process from the very beginning, providing feedback on the drum track and tweaking it exactly how they wanted. They were impressed with the quality of the instruments, particularly when they got to the guitar. "The guitarist was absolutely astounding," says Wallingford. "When we say world-class session musicians, we're not kidding. It was very modern, he knew exactly what he was doing."
As they had been for all the other instruments, the duo shaped the guitar part to get the nuances they were listening for. "We wanted it to build towards the end, and we wanted some things placed here and there. We shot him a couple of notes and, boom, he just made it dynamite. This guy was so in touch… I can't imagine anyone getting all that together as quickly as he did. He was great."
Realizing they needed a professional sounding vocal track to go along with the instruments, Chord Slinger N Lola found a top New York recording studio to lay down some vocal takes. The results were uploaded to the Studio Pros website to be mixed into the music and mastered by a Studio Pros engineer.
Studio Pros' customer service from head producer Kati O'Toole was the key factor in the whole process for Wallingford. Having never been in a recording studio, he relied on O'Toole's expertise to make sure his vision was realized. "Katie was the glue that could speak the language that could put this all together," he explains. "What was impressive was that she's pretty much there all the time, and any time I had a thought or a question she would listen. It was very much personal attention."
Chord Slinger N Lola will be taking Studio Pros' full music productions and attempting to get them placed in films and TV shows through TAXI.com and other venues. They will also be shopping it to labels, all the while realizing the project may never have been possible without Studio Pros' eliminating the geographical distance between them. "I think this service has a real value to people who are in different parts of the country," says Wallingford. "And I think it also has real value to people who are doing all the instruments themselves. We've had success every place we went and this sounds a lot better than what we've done before."
Get a free project consultation from Studio Pros today.