What is an EP?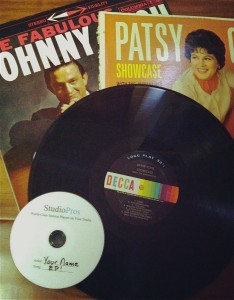 An EP by definition, is short for extended play (EP), which consists of more music than a single recording but is too short to qualify as a full studio album. EP's originally became popular with indie bands and punk bands in the UK, but have now gained popularity in the music scene with the changes of the music industry today.
These days, the idea of a full length album and the old fashioned sense of buying an album has chanced. Listening from start to finish in one drive or sitting has become almost obsolete (with the exception of those few music geeks like myself).
With the advancements of the digital world, people are simply buying and downloading their favorite songs as singles off of albums instead of purchasing the full album from iTunes or other digital distribution companies. Generally speaking, EP's are around 25 minutes of music and include 3-6 songs as part of the project.
As an independent artist, the EP is the way to go for a debut release as it's more affordable and you can focus on your best songs and see the response you are getting from listeners before investing in a full length album.
LP vs. EP
LP, by definition is short for Long Play (LP). This stemmed from vinyl records and the old school phonograph records in days gone by. LP's would also be considered full length albums in today's terminology and typically consist of at least 9-12 songs on a single album project. This is what the traditional album would be called.
Release an EP with Studio Pros

As the popularity for EP's continues to grow, we urge independent artists to focus on their best "cream of the crop" songs and start investing in getting those produced. We have a lot of experience in helping artists develop their sound, style, vision and help in translating those ideas into fully produced recordings.
Check out a recent EP that has been released by Charlie Barclay and produced by Studio Pros:
https://studiopros.com/featured-artist-charlie-barclay
Our music production packages consist of live full band instrumentation, including live drums, bass, 3-6 guitars, 2-4 keyboards and mixing/mastering by a Grammy nominated engineer.
Send us your demo to our Free Project Consultation Page to get started today: https://studiopros.com/free-consultation-form.php
Stop putting your music on the back burner. If you are interested in getting your songs professionally produced with our production team, contact one of our available producers at: 1-310-928-7776 or email us at: info@studiopros.com. Record an EP this April 2013, and get $100 towards each song! Contact us for more info.