A seasoned songwriter and poet, Rich Marcello teamed up with Studio Pros to give his productions the professional edge he needed, and keeps on coming back for more.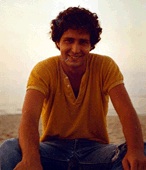 Boston based songwriter Rich Marcello is no novice when it comes to getting out the ink and jotting it down.  With over 30 songs professionally produced with Studio Pros, he's gotten the continual experience of producing his tracks online, and is regularly bringing Studio Pros more material to produce.  "I've been writing for around 20 years," says Marcello.  "At first I did a lot of the production myself but several years ago I decided to get them professionally produced, which was one of the best decisions I ever made."
Marcello came across Studio Pros (which was at the time DrumsForYou.com) through an online search and decided to give it a try.  Starting with just a drum track, he heard the quality of Studio Pros' production team and decided to try it out for a full production.  "By letting other really talented musicians work on my material it really took my work to a much better place. I knew I found a great partner in music and I've felt that on every song Studio Pros has done for me.  I think Studio Pros is the best in the business–I won't ever use anyone else," Marcello stated.



With songs ranging from adult contemporary ballads, folk and blues to rock, Marcello has utilized Studio Pros vocalists in all of his recordings to give his songs a professional quality and clarity.  Though the styles tend to vary, the theme seems to be the same.  Writing of love and loss, his songs are emotional and will pull at your heart strings.  "A friend of mine once told me that I write the same song over and over again.  He said my songs are really just different takes on the same topics – love, loss, and the changes that we sometimes go through to heal and grow. I always thought that was a pretty accurate summary of my work, though I've learned over the years that a song tends to take on a life of its own after I write it.  If I do a good job with it, the song is somehow in relationship with the listener and sometimes reflects back in a meaningful way what that person is experiencing at the time."
As an imaginative writer and individual, Marcello enjoys the production process of Studio Pros' production as it unfolds and how it allows him to be involved in the development of his productions.  "There is a lot of flexibility and creativity in the process, which is great if you are a songwriter.  The overall process is fast, so it's really cool to see my songs turned into professional productions in a couple of weeks."  This quick, 48-hour turnaround time allows him to move on to new ideas and keep on producing more material, instead of agonizing over one song for months.
If you'd like to check out Marcello's website and take a listen to more tracks that he's produced with Studio Pros, you can listen to more at richmarcello.com.